Mera Bill Mera Adhikar Scheme is launched by Central Government in collaboration with State Governments. This 'Mera Bill Mera Adhikar Scheme' Yojana is to promote the Practice of Customers requesting invoices or bills for all Purchases and get a Chance to Win 1 Cr Rupees under Lucky Draw. Here is How to Participate in Mera Bill Mera Adhikar Scheme and Win 1 Cr Rupees.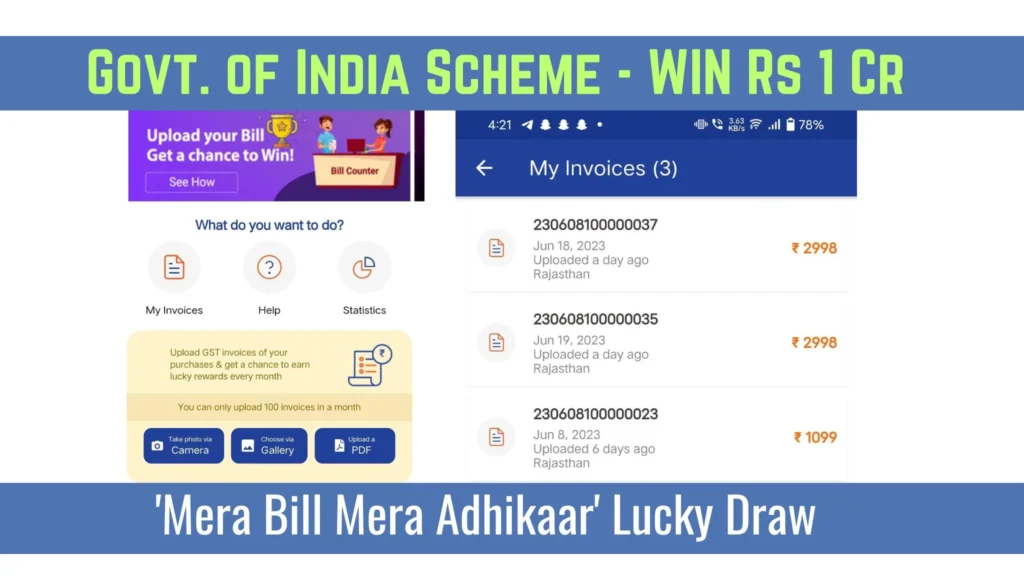 It's Govt approach to influence people to 'Ask for Bill' as its their right and duty. It will be Applied to B2C Invoices provided to Customers by GST Registered suppliers in Participating States. It will bring Massive Cultural and Behavioral Change in Public of Nation. This Scheme is initially launched as a Piot in Assam, Gujarat, Haryana and Union Territories of Puducherry, Dadra and Nagar Haveli and Daman & Diu.
You have Options to Take Photo of Invoice, Upload Photo or PDF Invoice directly from your Phone Gallery. Upload GST Invoice of your Purchase and get a Chance to Earn Lucky rewards every month.
How To Upload and Apply on Mera Bill Mera Adhikaar App
To Apply for Mera Bill Mera Adhikaar App, you have to Download Android or iOS App into your Mobile and install it. Follow below mentioned steps to Apply on Mera Bill Mera Adhikaar App.
Download and Install ' Mera Bill Mera Adhikaar App' from Playstore or Appstore
Enter Your Mobile Number Login (Verify with OTP)
After Login, You have Options to Upload Invoice from Gallery (Photo or PDF) File or You can Take Picture of Invoice directly from App.
Application will Fetch all the details Automatically from your Uploaded Invoice and if required, Enter details manually.
That's It, you can Track Statistics of your Invoice
An Acknowledgement Reference Number (ARN) will be Generated for each Uploaded invoice which will be used in the Prize Draw. Every Month Few Lucky Invoices to be identified using a Random Draw Process. You should have at least 200 Rs Worth of invoices to qualify. The More the number of invoices uploaded by a Person, The Higher their Chance of Winning.
Further, a few lucky invoices which have been paid through digital modes of payment like UPI or RuPay card stand a chance of winning a higher prize also.
Information Needed from the Participants for uploading the invoice:
GSTIN of supplier
Invoice Number
Invoice Date
Invoice Value
State/UT of the customer
Important Things to keep in mind:
The system will reject duplicate uploads and invoices with a fraudulent or inactive GSTIN
Push Notifications on APP or Website to be Notify or Alert Winners
Winning Amount to be Transfer to Participant in their Bank Account and for that they have to submit detailed information like PAN number, Aadhar card number, and bank account details
This pilot program will be active for a year.
Where to Upload 'Mera Bill Mera Adhikar' Bill?
Invoices should be uploaded on 'Mera Bill Mera Adhikaar' Mobile Application Available on Android, iOS Platforms as well as the Web Portal Link web.merabill.gst.gov.in
What types of invoices are acceptable for upload?
Only B2C (Business to Consumer) invoices are acceptable, which are issued to or received by an end-user. A B2C invoice is a document issued by a registered seller possessing a GSTIN to a consumer (unregistered).
How rewards will be delivered to the Winners?
The Winning Amount or Rewards will be credited directly to winners' bank accounts, and winners must update their PAN and bank details in the app or portal.
When is the Start Date of 'Mera Bill Mera Adhikar' Scheme?
Mera Bill Mera Adhikar Lucky Draw Scheme Starting from 1st September 2023
Which States are Participating in this 'Mera Bill Mera Adhikar' Scheme?
Initially Eligible States are Assam, Gujarat & Haryana and UTs of Puducherry, Dadra Nagar Haveli and Daman & Diu.
Who are Eligible for this Draw?
All Citizens of India except those notified by the Government of India.
How Many Invoices i can Upload in a Month?
You can Upload only 100 Invoices in a Month