Girgit Brand Products are known for its color changing products for kids and adults. Yes, Girgit Selling colour chaning Shoes, Shorts, Mask, T-Shirt, Watch Strap, Bottles and more products across india. Girgit Products were generating enough sales by growing business each month and after appearing on Shark Tank India Seasons 2, their business going to get massive reach and which in turn more sales, more revenue and more profit.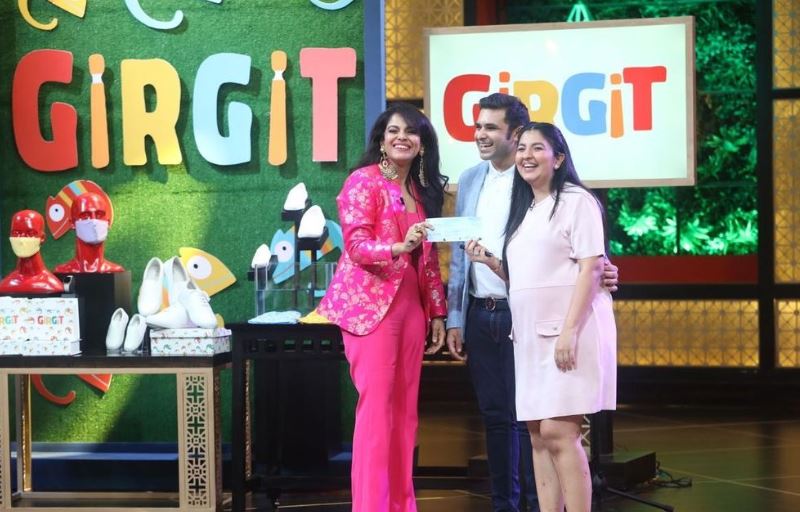 Girgit Store Founder Pooja Bajaj Shah and her husband who is the backbone of this business ask for funding on shark tank india season 2, Their ask was 20 Lakh Rupees for 10% Equity in their company. Sharks Aman Gupta, Vineeta Singh, Peyush Bansal and Anupam Mittal were out because they found it not much scale-able. But Shark Namita Thapar invested her money for the below mentioned equity and valuation.
Girgit Brand Product Sales report | Shark Tank India Season 2
Here is the Sales report of Girgit products from Online as well as offline customers.
They Sold around 3000 products and they have around 1800 customers. Girgit Store Kids Shoes Price is around Rs 2000 and Girgit Adult Shoes is of around Rs 3000. Their Total Sales is Rs 58 Lakh. Their Gross Margin is 79%. Their Last Month Sales of August 2022 was 8.5 Lakhs, July 2022 was 7.5 Lakhs, June 2022 was 5 Lakhs.
Girgit Ask on Shark Tank India 2 – Rs 20 Lakh Rupees for 10% Equity
Company Valuation – Rs 2 Crore
Namita's Offer – Rs 20 Lakh for 20% Equity
Their Counter offer – Rs 20 Lakh for 15% equity
Finally they convinced to Namita's Offer of Rs 20 Lakh rupees for 20% equity. which makes 1 Cr valuation of business.
Where to Buy Girgit Products? | Review
Girgit Products are Color changing Shoes, Shorts, Mask, T-Shirt, Watch Strap, Bottles and more available on their official website and you can also order it from their official Instagram page and whatsapp. Girgit products are for Kids, Men, Women. You can gift these amazing products to your relatives or friends.
These Products changing its color in Water as well as in Sunlight. This is India's First Brand on Color Changing Products which attracts Kids more. Their products are getting Positive Review from the buyers and many of them shared their product satisfaction and happy experience using it.
Girgit Mask Price – Rs 500
Girgit Magic Bottle – Rs 750
Girgit Girl Costume – Rs 1,850
Girgit Solar Tees – Rs, 900
Girgit Shorts – Rs 2,000
Girgit Shoes – Rs 2,000
Girgit Sunny Watch Strap – Rs 900
Girgit Sunny Sneakers for Women – Rs 3,000
So, if you wants to Try out Girgit Products for your Kids, You or for Gifting purpose order it onlyne from their official website www.girgitstore.com. Also Watch Girgit Product Demonstration by Founder Pooja on Shark Tank India Season 2 Episode 3 of 4 January 2022 on Sonyliv.
If you are interested in such Trending News Updates in Business and much more categories Click Here to Visit Spade Magazine website.