MTV Splitsvilla Season 14 unveiled lots of excitements in fans after the First Promo of the show. This time MTV Splitsvilla 14 welcomes 10 Boys and 10 Girls in a Villa and there will be 2 islands where boys and girls will stay on different island. They have to find their ideal match connection from the another island. Here we have MTV Splitsvilla 14 Contestants Names Full List 2022 with Images. Know the Splitsvilla X4 Contestants Real Age, Bio and more.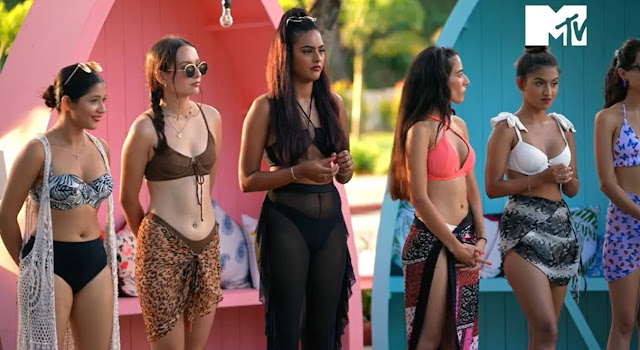 MTV Splitsvilla 14 is hosted by New Host Arjun Bijlani with existing host Sunny Leone. Interestingly, this new Sunny-Arjun Pair of Hosts is liked by the audiences. Let's have a look at MTV Splitsvilla 14 Contestants, their Real Name, Wiki, Bio, Age and more about their profession and social media activities.
MTV Splitsvilla 14 Contestants Names Full List with Real Age, Biography
Know the Names of MTV Splitsvilla 14 Contestants Boys, Girls who are selected by the production teams. Meet the very popular and very unique face of social medias who are making their television debut. 4 of them are very known faces. 2 of them are Roadies Winner, 1 is Ex Roadies 2022 contestant, 1 popular social media star and bigg boss ott fame.
Let's move to the point and know each contestant from very close.
1) Kashish Ratnani | Age – 20 Years
Kashish Ratnani is very preaty Face, Cute Voice and Talented and Confident Model. Kashish Ratnani have been part of many beauty pegents, Also participated in MTV Supermodel of the Year Season 2. Now, She is back as a contestant in MTV Splitsvilla 14. She is here to find a charming boy on island.
2) Sakshi Dwivedi | Age – 20 Years
Sakshi Dwivedi is Model, Actress and Social Media Star with more than 1M followers on Instagram. She appeared in a several music videos as a lead actress. Sakshi Dwivedi is looking for a partner who is a nice guy who respects her and can match her vibe.
3) Saumya Bhandari | Age – 24 Years
Saumya Bhandari is a 24 years old Fashion Model, Architect from Delhi and currently living in Mumbai. She is the perfect selection for MTV Splitsvilla 14 as Saumya Bhandari is a serial dater and knows how to impress boys with a secret formula – 'How to Attract Guys 101' She is here in villa to find good looking boy who cares for her.
4) Joshua Chhabra | 25 Years
Joshua Chhabra is one of the Top Models of India, Who already worked with many Big Brands. He is known for his Dashing Looks, Style, Confident. Joshua has won several competition and He is a self proclaimed playboy. He is dominating alpha male. Joshua Chhabra has been Winner of Gladrags Mr. India, Top Model India Season 1, Man of the World India. Joshua is here in Splitsvilla 14 for beautiful and hot girl.
5) Shrea Prasad | Age – 22 Years
Shrea Prasad is a Model, Infuencer and Beautician from Fiji Islands. Shrea Prasad is here in MTV Splitsvilla 14 to find Ideal Partner who can love and pamper her.
6) Kashish Pundir | Age – 22 Years
MTV Roadies Xtreme Winner Kashish Thakur is back as a content in a love based tv show and He is one of the most talked contestants of MTV Splitsvilla 14. Kashish Thakur is Fitness Enthusiast with a very charming cute face. He is here in villa to find a lady who can match his vibe like someone who is understanding and highly energetic.
7) Akashlina Chandra | Age – 22 Years
22 Years old Kolkata girl Akashlina Chandra is founder and owner of her makeup brand Akashlina Cosmetics. She is a digital content creator in Makeup, Fashion and Lifestyle. She is a courageous girl who never mince her words. Akashlina is in MTV Splitsvilla 14 to find a perfect sexy man for her who is good looking and having competitive spirit.
8) Justin D'Cruz | Age – 22 Years
Justin D'Cruz is one of the famous dancer, choreographer from Hot Indians Dance Crew. You might have seen Justin and his crew in Remo D'Souza's Dance Plus 6. He impressed many celebrities by his dance moves and now he is here in villa to impress a girl. His tattooed perfect body is the plus factor why any girl would fall in love with her. Justin Dcruz is looking for a Straightforward, Unpredictable girl in villa.
9) Aradhana Verma | Age – 25 Years
Aradhana Verma is Army brat, NIFT Mumbai Graduate. She is a model, Fashion Designer and actress. She loves surprises and here in splitsvilla season 14 she is looking for Picture Perfect Partner with talk, muscular and charming personality.
10) Sohail Khan | Age – 25 Years
25 years old Sohail Khan / Sohail Shaikh is a Fitness Freak and Owner of a Mumbai based gym named 'Sohail Fitness'. He has more than 1M fan Followers on Instagram. His Reels Videos of Fun reaction, Dance getting so much love. He is here in MTV Splitsvilla 14 to find a sweet understanding ideal partner.
11) Pema Leilani | Age – 22 Years
Pema Leilani is one of the most gorgeous girls in MTV Splitsvilla 14. 22 years old Pema is from Shillong. Pema loves to sway to Afro beats and has a lovely sense of humor. Pema Leilani is looking for an ideal partner in villa who is charming, passionate, groomed with a strong and confident personality.
12) Honey Kamboj | Age – 25 Years
Honey Kamboj is 25 years old punjabi munda here in Splitsvilla 14 to find a perfect Punjabi Kudi for him. He is looking for a girl in splitsvilla 14 who is sensible who knows how to converse in punjabi.
13) Sakshi Shrivas | Age – 22 Years
22 Years old Sakshi Shrivas is the Beauty with Brain. Yes, She is a Software Engineer who worked in Google and Working in LinkedIn. She is a great dancer as well. Sakshi Known many computer programming languages but it would be interesting to see if she knows boy well in villa. But, Sakshi Shrivas will surely impress boys with her dance, intellect. She is looking for a Intelligent, Confident partner in Splitsvilla 14.
14) Amir Hossein | Age – 24 Years
Amir Hossein is Pharmacist, Restaurateur from Pune, Maharashtra. Amir is a Persian boy with Desi touch. He is managing his family's Irani Cafes in Mumbai. He is quick with One-Liners and Shayaris which will help him to impress girls in villa. He is looking for a loyal partner with cute and charming face.
15) Uorfi Javed | Age – 25 Years
Uorfi Javed / Urfi Javed is a Social Media Star who is known for her own iconic designer cloths. She is the talks everyday for her quirky outfits. Urfi Javed have been contestant of controversial reality show Bigg Boss OTT. Urfi changed her Instagram name to Uorfi. She is one of the most talked contestants of mtv splitsvilla x4. She is known for her bold behavior in real life and it looks she is gonna change the game this season. She will surely raise the temperature in a villa.
16) Hamid Barkzi | age – 24 Years
After Winning MTV Roadies Revolution Season 18, Hamid Barkzi is back as a contestant in a love based reality show MTV Splitsvilla Season 14. Audiences are excited to see Handsome Hunk Hamid again in MTV Splitsvilla X4, in fact he is the reason for many people to watch splitsvilla.
17) Soundous Moufakir | Age – 27 Years
You might have seen this gorgeous Moroccan-French beauty Soundous Moufakir in MTV Roadies 2022 – A Journey in South Africa. She liked Baseer Ali during that show. Now, She is back as a contestant in MTV Splitsvilla 14 to find an ideal boy with Confident, Outspoken, Smart and Sensible personality.
18) Aagaz Akhtar | Age – 25 Years
25 years old Fashion model Aagaz Akhtar is known for his rugged good looks. He is known for his unique style, looks and personality on social media. He is Tall and Confident here in splitsvilla to impress girls. He is here in Villa to find someone who is hard to get.
19) Oviya Darnal – Age – 19 Years
19 years old Oviya Darnal is one of the Youngest contestant of MTV Splitsvilla 14. She is very poplar on Instagram with more than 907K Followers. She is known for her Beauty and Cuteness. She is sharing her daily life on Instagram and YouTube Vlogs. She knows the art of engaging everyone around her. Oviya is very Shy as a person who is looking for a hard to get shy guy with dimples in splitsvilla x4.
20) Rishabh Jaiswal | Age 22 Years
Rishabh Jaiswal is a 22 years old Model, Actor from Varansi. He is known for his dashing look and personality. He is a Content Creator who knows how to use his dimples to his advantage as a model. He is looking for a pretty girl with strong personality in MTV Splitsvilla X4.
21) Dhruvin Busa | Age – 22 Years
22 Years old Dhruvin Busa is the founder and owner of Event management company Catch Events. He is a content creator who loves beat-boxing. He is a charming personality with heavy curly hair growth. He is sweet and wit in talks. He Hosts popular podcast named 'Young, Wild and Free'. Dhruvin Busa is her in Splitsvilla 14 to find a cute girl who can match his vibe.
So, these are the Contestants Boys and Girls in MTV Splitsvilla 14 who will try their best to impress each other and find their best ideal match connection. Also they have to face the Tasks together to test their love bond. Oracle machine will test their ideal match connection weather they are ideal match or not. If they found as an Ideal Match Connections, they will have the special benefits of surviving longer and vote out somebody based on their power.
All in all MTV Splitsvilla 14 going to be an exciting watch like never before. Keep watching MTV Splitsvilla 14 every Saturday-Sunday 7 PM on MTV India.