Sony Happy India Pack is available at an Impressive Price of 31 Rupees per month. The GST Charges (18%) will be added to the total cost. See the List of Available Channels for 31 Rs. Plan. You can Activate the 31 Rs Pack by doing online recharge or you can also do it by contacting you Dish TV or Cable Network Service Provider. The Contact Numbers listed out below.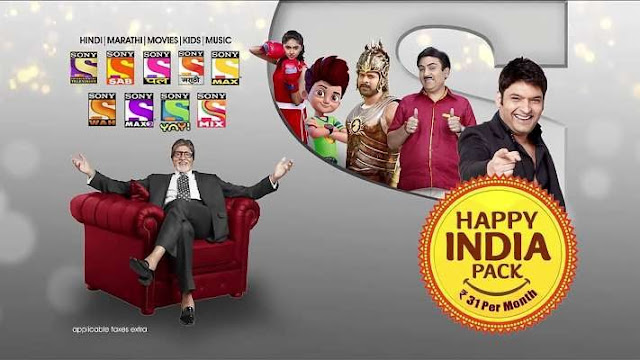 TRAI has changed the rules and now, the power of selecting channels is in the hands of customers. Previously, we don't have any options in selecting channels as cable TV just set a specific price for a plan and when customer activate that plan, then all the channels are added in the plan including channels that you don't even watch which leads to exploitation of customers. So, to protect customers, TRAI has launched new rules and regulations.
Sony Happy India Pack Channels List – 
Sony TV, Sony Sab, Sony Pal, Soy Marathi, Sony Max, Sony Wah, Sony Max 2, Sony Yay, Sony Mix
Activation Date – 29th December 2018
Pack Charges – Rs.31+18%GST
Who Can Enjoy Sony Happy India Pack?
All DTH Cable Connection, and digital TV operator including Tata Sky, Dish TV, Airtel Digital TV (ADTV), GTPL, Videocon D2H, Reliance Digital TV (RDTV), Sun Direct,  Den users can Recharge for 31 Rs Pack by contacting the Official Set Top Box Service Priovicer or Cabal TV Network providers.
How To Activate Sony Happy India Pack?
To Activate Sony Happy India Pack of 31 Rs. you can contact DTH or Cable TV Service Provider. Ask them to Activate the Pack. The Operator Contact No. Customer Care number listed below.
Tata Sky Customer Care no: 1800 208 6633
Airtel Digital Tv Customer Care no: 1800 102 8080
Sun Direct Customer Care number is 1800 103 7575, 1800 123 7575
Videocon D2H Customer Care no: 091156-91156
Dish Tv Customer Care no: 1800 258 3474
Zing Digital Customer Care no: 1860 120 5757
Independent TV Customer Care no: 1800 200 9001
Hathway Cable Customer Care no: 1800 4197 900
The Sony Network Happy India Pack is Available for the Wide Range of States mentioned below.
Available in these states : Andhra Pradesh, Arunachal Pradesh, Assam, Bihar, Chhattisgarh, Goa, Gujarat, Haryana, Himachal Pradesh, Jammu and Kashmir, Jharkhand, Karnataka, Kerala, Madhya Pradesh, Maharashtra, Manipur, Meghalaya, Mizoram, Nagaland, Odisha, Punjab, Rajasthan, Sikkim, Tamil Nadu, Telangana, Tripura, Uttar Pradesh, Uttarakhand, West Bengal, Andaman and Nicobar Islands, Chandigarh, Dadar and Nagar Haveli, Daman and Diu, Delhi, Lakshadweep, Puducherry (Pondicherry).
See the List of wide Range of Happy India Pack of 31 Rs Available to you.
Happy India pack
Happy India Premium HD Pack
Happy India Premium Pack
Happy India Platinum HD Pack
Happy India Platinum Pack
Happy India Silver HD Pack
Happy India South Silver Pack
Sony Happy India Sports Pack
Happy India Bangla Platinum Pack
Happy India Bengali Gold Pack
Happy India Gold Pack
Happy India South Gold Pack
Happy India South Gold Football Pack
Happy India South Silver Football
Happy India Silver Pack
Happy India Bengali Pack
Happy India Sixer HD Pack
Happy India Sixer Pack
Telugu, Bengali, Tamil, Malayalam, Marathi, Kannada, Kannada – Hindi, Telugu – Hindi, Tamil – Telugu, Tamil – Hindi, Malayalam – Hindi, Marathi – Kannada, Telugu – Kannada, Tamil – Kannada, Tamil – Malayalam, Kannada – Malayalam, All South are the regional language for which you can get the Sony Happy India Pack. Get the Plan details of your location and Activate by the Guide mentioned above.