MTV Hustle 3.0 Voting Lines are Open for the Contestants in a show. You can vote and support your favorite contestants from the teams of Squad Bosses or Captains EPR Iyer, Ikka, Dee MC and Dino James. MTV Hustle 3.0 Voting Lines are open for weekends only. Login to JioCinema Website or App to do easy voting online.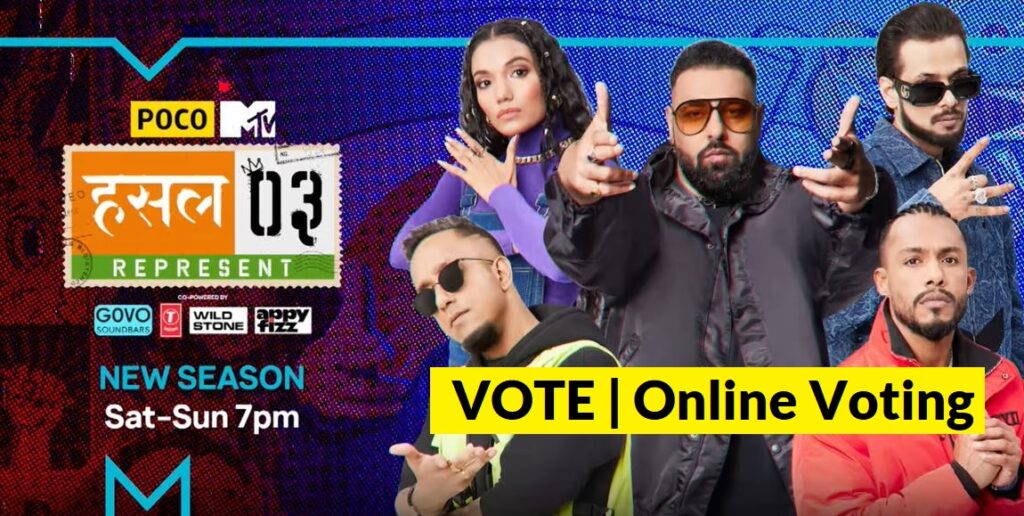 MTV Hustle Season 3 Contestants are Badal, Burrah, Mrunal Shankar, Saurabh (100RBH), Vijay Dada, Kayden Sharma are among the Top 16 Contestants who are performing in a show.
Now, Public Voting only can save your favorite Rapper contestants from the show. Its important to watch each week performances to vote and support the best ever talent in a show. MTV Hustle 3 Voting Window is open on JioCinema App. Logon to Vote.
MTV Hustle 3.0 VOTE | Hustle 03 Voting
Here is the quick guide on How to Vote for your Favorite Hip Hop Artists in MTV Hustle 03 Represent reality show. Follow below mentioned Step by Step guide and Vote your favorite Nominated Contestant, to Save from the Elimination each week. Your Votes will be considered for each Next Elimination.
Apart from Judge Badshah's Score, The one who gets Highest Votes will be Saved from Elimination. The Lowest Scorer Contestant will be Eliminated from MTV Hustle 3.0 reality show as part of the Show Format.
1) First of all Download/Update the JioCinema Mobile Application
2) Login to JioCinema App using Google/Facebook account
3) After login, you will see a MTV Hustle 03 Represent Voting Window banner
4) there you will find the list of unsafe contestants of the week.
5) you can save your favorite contestants by voting them.
6) Click on the photo of the contestants, you wants to save from elimination
7) Hit Submit button below and you are done.
This is the simple voting process you have to follow each week, if you wants to vote and support your favorite contestants. Your every Vote is very Precious, So please Vote Carefully and Support Desrving Rapper Hustle 03 Contestants. Keep watching MTV Hustle Season 3 every sat-sun 7 pm on mtv india and support your favorite. Happy Voting!
MTV hustle 3 vote for Saurabh 100rbh, vote for Mrunal Shankar, Burrah, mtv hustle 3.0 voting for Vijay Dada, Badal, Kayden Sharma