Zee Family Pack is back with an Interesting Offers, Value Pack Available at an Interesting Price of 39 Rupees Per Month. See the List of Available SD and HD Channels at an Interesting Price Range. There are 23 Channels Available at 39 Rupees Price Per Month.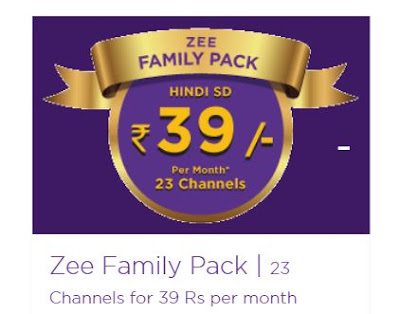 See the Zee Family Pack 39 Rs Channels List in Entertainment, Movies, News, Infotainment and Music Section.
Zee Family Pack 39 Rs Channels List | SD & HD Packs
Zee TV, &TV, Zee Anmol, Big Magic, Big Ganga, Zee Cinema, &Pictures, Zee Bollywood, Zee Action, Zee Anmol Cinema, Zee News, Zee Hindustan, Zee Business, Zee Salaam, Zee Bihar Jharkhand, Zee Punjab Haryana Himachal Pradesh, Zee Madhya Pradesh Chattisgarh, Zee Rajasthan News, Zee Uttar Pradesh Uttarakhand, Zee 24 Kalak, Living Foodz, Zee ETC Bollywood, Zing
All the Zee Family Pack of HD Channels Available at Rs. 60 Rupees and Zee All In One Pack Available at 85 Rupees Price List.
Pick the Packs of your choice at attractive rates. Zee Family Packs have Entertainment, Movies, Lifestyle and Regional content. There is something for everyone in your family.
Regional Languages for Zee Family Pack of 39 Rupees.
HINDI, ENGLISH, MARATHI, BENGALI, ODIA, TAMIL, TELUGU, KANNADA, ALL SOUTH PACKS, ODIA-TELUGU, MARATHI-KANNADA, TAMIL-TELUGU, TAMIL-KANNADA, TELUGU-KANNADA are the Region for which Zee Family Pack 39 Is Available. Isn't It the Interesting Zee Value Pack?
Available in these states : Andhra Pradesh, Arunachal Pradesh, Assam, Bihar, Chhattisgarh, Goa, Gujarat, Haryana, Himachal Pradesh, Jammu and Kashmir, Jharkhand, Karnataka, Kerala, Madhya Pradesh, Maharashtra, Manipur, Meghalaya, Mizoram, Nagaland, Odisha, Punjab, Rajasthan, Sikkim, Tamil Nadu, Telangana, Tripura, Uttar Pradesh, Uttarakhand, West Bengal, Andaman and Nicobar Islands, Chandigarh, Dadar and Nagar Haveli, Daman and Diu, Delhi, Lakshadweep, Puducherry (Pondicherry).
Tata Sky, Reliance Big TV, Airtel Digital TV, Dish TV, Vidocon D2h, Sundirect, Cable Operator Can Recharge for the Zee Family Pack of 39 RS Per Month.
How To Recharge or Activate for Zee Family Pack or Zee Value Pack?
You can Contact you DTH or Digital TV Operator Number. Ask them to Activate the Zee Value pack or Zee Family pack.