Dorje Teas – The Original Taste of Darjeeling Founders Asks for an Investment on Shark Tank India Season 2. Dorje Tea is based out of the heritage Selim Hill Tea Garden in Darjeeling. Here's Dorje Tea Review, Price, Ask in Shark Tank India 2, Valuation, Investments by Sharks, Turnover, Funding and Everything you wants to know about the Darjeeling Chai Business appeared on Shark Tank.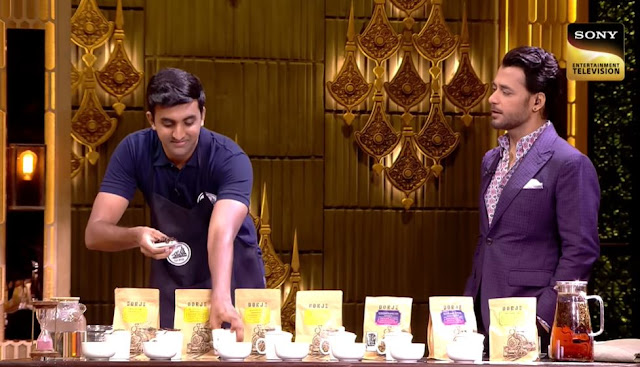 India has 10,000 tea gardens. But only 87 of them are in and around Darjeeling, producing high quality teas known worldwide as "The Champagne of Teas." While these teas are India's pride, we realized that they are simply inaccessible, unavailable or unaffordable, for most Indians.
Where Dorje Tea Estates are Located?
Located at 4000 ft above sea level, Selim Hill Tea Garden is one of the 87 tea gardens of Darjeeling. It was first planted by the Englishman Henry Selim in 1871, and it borders the town of Kurseong.
Spanning over 1,000 acres, half of the garden area is covered by the Selim Hill Forest, which is home to hundreds of different species of birds, including the great Indian hornbill, animals like leopards, barking deers, and elephants, and different species of spiders and snakes.
A buyer can get a kilo of tea, of 250-gram packs of each flush in a year, for Rs 2,100. The brand "Dorje" derives its name from one of the origins of the word Darjeeling.
Although Darjeeling tea is known worldwide for its muscatel flavour and  close to a million kilo is produced by 87 tea estates in its hills, a number of tea gardens are facing financial problems.
"It is a picture of contrasts. That is why, we decided on innovation. We're taking up a new initiative to offer teas of four different flushes to tea lovers round the year through the annual subscription mode. Our plan is to build a subscriber base of around 50,000 people who would get our exotic teas delivered at home," said Sparsh.
Dorje Tea Price and Review (Customer Review)
Co-Founder Sparth Agarwal Pitches on Shark Tank India 2 and Asks for an Investment from the Sharks of the show. Dorje Teas as the Finest Teas of Darjeeling, Brewed Sustainably fresh from the farm. Dorje Team comes in wide range of varieties as mentioned below.
First Flush – Darjeeling Tea – From Rs. 419
Kashmiri Kahwa Tea – From Rs. 399
Firt Flush Green Tea – From Rs. 419
Second Flush – Black Tea – From Rs. 299
Chamomile Tea – From Rs. 399
Roasted Darjeeling Black Tea – From Rs. 249
Monsoon Flush – Green Tea – From Rs. 249
Kukicha – Japanese Twig Tea – From Rs. 399
Autumn Flush – Black Tea – From Rs. 299
Hibiscus Tea – Rs. 399
Second Flush – Green Tea – From Rs. 299
Tangy Orange Tea | Darjeeling Earl Grey – Rs. 399
Autumn Flush – Green Tea – From Rs. 299
Darjeeling Cold Brew – From Rs. 399
Moonlight White Tea – Limited Edition – Rs. 999
Now, Let's Look at the Customer Review from those who have Tried and Tested Dorje Tea. These Reviews are from Verified Buyers from their official website.
2022 First Flush – Darjeeling Tea Review from Customers
Naresh Chaudhry
Wanted a little more stronger tea but the taste and aroma is great
First Flush Darjeeling Black Tea
Aromatic and delightfully mellow….. just right for the chilly winter mornings
Neelu Gora
Awesome ! Great flavor and color!! This for me is the authentic Darjeeling tea. Would recommend it to family n friends. Thanks
G.S.
Good experience overall
Quality of tea leaves is very good, it's smells fresh and have mild taste. Definitely more astringent than some some of the other Dargelling black teas I've had. Overall it was a good experience
Roasted Darjeeling Black Tea Review from Customers
Yogesh Chandra
Dorje Roasted Darjeeling Black Tea
All that we have to say about Dorje tea is that " it is fantastic ".
Proloy Bhaduri
Experience of testing Dorje tea
At last I have found a beautiful flavoured tea. It was amazing .
Dilip Vadgama
Excellent Tea. The Test of Dargeeling Tea
The first flush Dargeeling tea from Dorje is a real delight for tea lovers. Excellent quality just as promised
Amlanabha Das
I am from Kolkata staying in Mumbai , a tea connoisseur tasted quality tea in the Darjeeling Gardens . This is good quality DT but expensive for sure !
Dorje Tea Pitch Video on Shark Tank India 2: Here is the Pitch Video of Dorje Tea when Founder asked for an Investment from the sharks.
It would be interesting to see Which Shark Invest in Dorje Tea and increase the Valuation of the company.
Ask – 30 Lakh Rupees in Exchange of 5% Equity
Where to Buy Dorje Tea Online?
Dorje Tea is Available to Purchase from their Official Website Link as well as from the Amazon Store. Buy it Online in 100 gm, 250 gm Pack and Let us know your Review in a comment section below.