Pabiben Rabari who earlier graced Amitabh Bachchan's Kaun Banega Crorepati game show is back on Sony TV's Shark Tank India Season 2 with her unique and well established business. Pabiben Rabari, An Entrepreneur from Kutch, Gujarat is producing a line of Shopping bags called the Pabi Bags that is used by many Bollywood and Hollywood movies stars.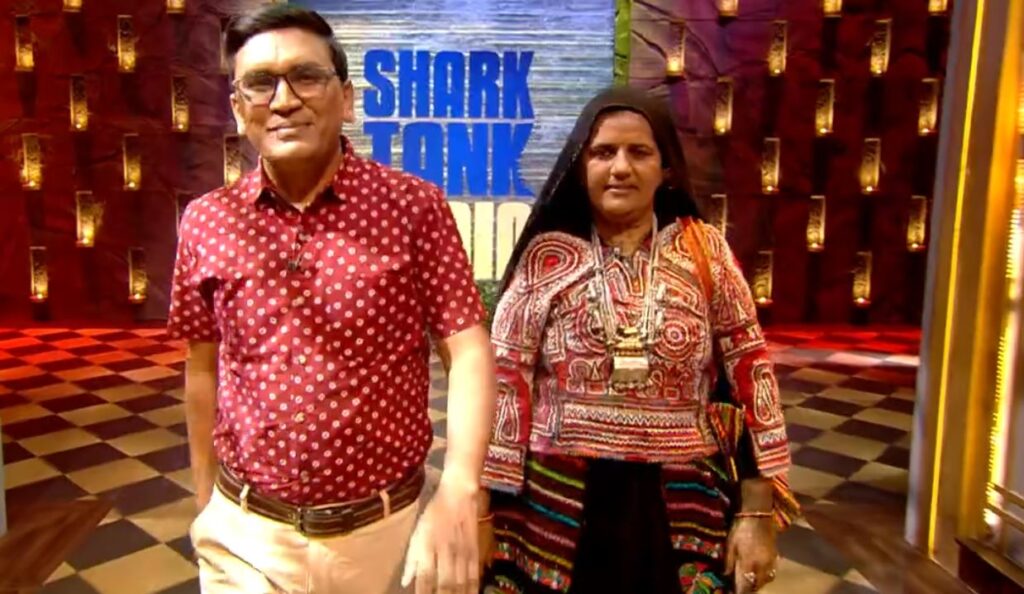 Pabiben Rabari is from Bhadroi Village in Anjar Taluka of Kutch, Gujarat. She started embroidery work at an Early age and Invented a new Embroidery Art From Called 'Hari Jari'. She is now running well running business selling wide range of Bags, Sholder Bags, Pouches, Potlis, Laptop Bags, Clutches, Cushion Cover and Various products for Men and Women including Shirt, Kurta, Jacket, Dupatta, Saree, Stole, Masks and much more.
Pabiben learned the famed embroidery of her community, but before she could complete making her own dowry, the elder council of the community banned its use completely because they believed women spent too much time on the embroidery, leading to late marriages.

Here we have Some Review from Bollywood Stars Varun Dhawan, Anushka Sharma, Amitabh Bachchan who praised Pabiben and her Products and Business skills.
"From an artist to an entrepreneur. Pabiben took the threads of tradition and weaved a successful tale, inspiring so many of us, including me! It's never as easy as it seems, unless you have a 'never give up' spirit like…" Varun Dhawan
"A story of determination, spirit and art. Watch the undeterred entrepreneurial journey of Pabiben… It will definitely win your…", Anushka Sharma
"आप हिंदुस्तान का वो आयना है जहां इंसानियत का चेहरा साफ नजर आता है I", Amitabh Bachchan

Soon after, the Pabi Bag was introduced to the contemporary market. Pabiben's work has been shown in Hollywood and Bollywood films, and enjoys popularity all over the world today! The authenticity of her bags blends completely with modern aesthetics. Moreover, her craft is not just a result of hard-work and creativity but it also echoes the voice of women empowerment.
Order Now >> Pabi Bags <= Amazon Link
Pabiben dropped out of school after standard IV, and then later she has started the Embroidery Work. Now She is running Successful Business and creating Women Empowerment and creating Employement for Kutch Women. Pabiben Rabari impresses Sharks on Shark Tank India Season 2 with her Story and Business Skills without any education.
Don't Forget to Know more about Pabiben Rabari's Business, Ask, Funding, Investment, Co-Founder, Husband, Struggle and more during her Shark Tank India 2 Pitch on Sony TV. Watch Shark Tank India Season 2 every Monday to Friday 10 PM on Sony TV and anytime on Sonyliv.