After the Launch of Chat GPT AI Tool, Everyone Started using the Free Tool and it has Significant Effect on Popular Search Engine 'Google' as Chatbot is capable of Serving Content whatever you want and Users' don't have to analyse the various Search results to get Answers of their queries. But, Google Tech Giant Leaves No Stones Unturned to Fight with a Competitor and Announced their AI Tool 'Google Bard AI' Which is Similar to ChatGPT. Finally, Google Bard AI Login revealed on 21st March 2023 and Users started interacting with AI Chatbot. Google Bard Login is available at bard.google.com and users can login using their google credentials.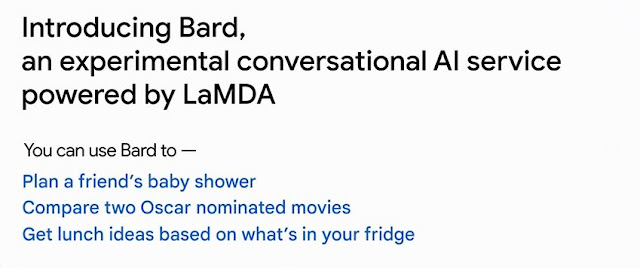 Google Official Blog Post Announced Bard Google AI and revealed, "We've been working on an experimental conversational AI service, powered by LaMDA, that we're calling Bard. And today, we're taking another step forward by opening it up to trusted testers ahead of making it more widely available to the public in the coming weeks."
Bard seeks to combine the breadth of the world's knowledge with the power, intelligence and creativity of our large language models. It draws on information from the web to provide fresh, high-quality responses. Bard can be an outlet for creativity, and a launchpad for curiosity, helping you to explain new discoveries from NASA's James Webb Space Telescope to a 9-year-old, or learn more about the best strikers in football right now, and then get drills to build your skills.
Difference Between Google Bard and Chat GPT
Both Google Bard and Chat GPT are Language based conversational AI Models but there are Key Differences in Both Tools.
Google Bard AI Tool will Serve Information from the Data already available on the Internet While ChatGPT Serves Information limited to the events till Year 2021. Bard will have access to latest Date and will serve Fresh Information as well.
Bard is being Integrated with Google Search Engine, will have access to Multitude of Date
ChatGPT is Still Learning and giving Sime Factual Errors, while Google Bard AI Promises to proved more accurate Data to the Users.
Bard Tool has an Advantage over other AI Platforms like ChatGPT because Google already have a Enormous Data Collection for In Depth Research and Serve Fresh Content to Users.
Google Bard AI Login Link | How To
Google Bard AI Login is available to the public from 21st March 2023 and users started interacting with AI Chatbot. You can Login to website URL: bard.google.com using your google credentials and start questioning Google Chatbot.
Google Bard is currently available in Some Specific Countries and Tool is continued improving daily. So, Wait for Google Bard AI Tool to Available in your Country if It's Isn't available yet.
How to Use Google Bard AI Tool? –
Bard Uses Online Information to give Fresh, High Quality replies. LaMDA, Google's Language Model built on Transformer, a neural Network Architecture, is at the Heart of Google's Chatbot.
Google Bard AI Tool will be available in a Simple Question Answer Format Similar to ChatGPT.
Google Bard AI Tool Release Date – 21 March 2023
Google Bard Available Countries – USA, UK
Google Bard Login URL – bard.google.com
Countries in Which Google Bard is Available?
Google Bard AI Tool is Open to use in USA and UK and to be rolled out in other countries very soon. So if you are Outside USA or UK, you have to Wait and Add this tool to your wish-list so, you will get an Invite once its available for your region.
Google Bard will Soon be available to other Countries including Australia, Canada, India and more.
google bard ai login
google bard login
bard.google.com login
google bard ai link
google bard ai how to use
google bard ai try
google bard ai release date
google bard ai sign up, registration, login