Amrit Udyan Utsav 2023: Rashtrapati Bhavan's Mughal Garden is now renamed as Amrit Udyan. So, Mughal Garden (Amrit Udyan) is now Opened for Public. So, Thousands of Delhi Residents are excited to Visit Rashtrapati Bhavan. Here's Everything you Wants to Know about Mughal Garden Amrit Udyan 2023 Opening Date, Closing Date, Entry Fees, Tickets, Ticket Booking Online, Registration.
The Park was called the Mughal Garden because it has pattern of Gardnes raised in Delhi, Agra, Lahore, Kashmir and Elsewhere during three Centuries of Mughal Rule. Every Mughal Garden has Canals intersecting at 90 degree angle, fountains and parade of flowers. Now, Amrit Udyan (Mugal Garden) is Open for Visitors from 31st January 2023 to 26th March 2023.
According to a statement from Rashtrapati Bhavan, "Rashtrapati Bhavan is home to a diverse collection of gardens. Originally, these included the East Lawn, Central Lawn, Long Garden, and Circular Garden. During the terms of former Presidents Dr APJ Abdul Kalam and Ram Nath Kovind, additional gardens were developed, such as the Herbal-I, Herbal-II, Tactile Garden, Bonsai Garden, and Arogya Vanam. In celebration of 75 years of independence as 'Azadi ka Amrit Mahotsav,' the President of India has decided to give all of the Rashtrapati Bhavan gardens a common name of 'Amrit Udyan.'"
Amrit Udyan (Mughal Garden) is Open for all people but Special Groups of People will be able to View the Garden from 28th March to 31st March. Farmers on 28 March, Differently Abled Persons on 29 March, Defense, Paramilitary Forces and Police Personnel on 30 March, Women including tribal women's self-help groups on 31 March.
Amrit Udyan (Mughal Garden) Attractions:
See the List of Attractions you are going to Enjoy at Mughal Garden or Amrit Udyan.
1. Sheesham (Dalbergia sissoo): A tree over 200 years old
2. Herbal Garden: Herbal, aromatic & medicinal plants
3. Bonsai Garden: Decades old Bonsais
4. Musical Fountain
5. East Lawn: Tulips, Dahlia, Freesia, Hyacinths, Marigolds and Pansies
6. Central Lawn: Floral Carpet and 120 celebrated varieties of Rose
7. Long Garden: Vertical Gardens, Chhoti Narangi and Hanging Baskets
8. Circular Garden: Stocks and Fragrant Climbers
9. Food Court
Important Dates, Time to Visit Amrit Udyan
Amrit Udyan Opening Date – 31 January 2023
Closing Date – 26th March 2023
Timings – 10 AM to 4 PM
Note – The gardens will be closed on (a) Every Monday for maintenance (b) On 1st and 2nd March 2023 on account of G20 meeting at RBCC (c) On 8th March 2023 due to GH on account of Holi
Entry to the Gardens from 28th March to 31st March 2023 will be reserved for visitors in special categories as mentioned below.
28th March: Farmers
29th March: Differently abled & visually challenged persons (Visually challenged visitors can also access the Tactile garden on the same day)
30th March: Defense Forces, Paramilitary & Police
31st March: Women and Tribal Women's SHGs
Mughal Garden (Amrit Udyan) Visit Online Booking
To Book a Visit to Amrit Udyan with your Family you have to Register Online on Official website, Here is How To Register on Official website http://rashtrapatisachivalaya.gov.in/
1. Go to Website https://rb.nic.in/rbvisit/amritudyan.aspx
2. You will Find a Online Booking Page for Garden Visit, Click on 'Online Booking' Button
3. Here you have Option to Select Group Type 'Individual Group' or 'School/College Group'
4. Select the Date of Visit, Entry Slot
5. Enter the Number of Male and Female Count, Click on Next
6. Enter Visitor's Name, Mobile Number and OTP received in Mobile with Captcha.
7. Hit Submit Button to Complete the Registration.
Note – You can View and Cancel Booking on Page https://rb.nic.in/rbvisit/amritudyan.aspx
Mughal Garden (Amrit Udyan) ENTRY FEE & CHARGES
Booking of slots and entry to the Gardens of Rashtrapati Bhavan during Udyan Utsav is free of cost
ENTRY: Entry to the Gardens will be through Gate No. 35 of the Rashtrapati Bhavan on North Avenue Road.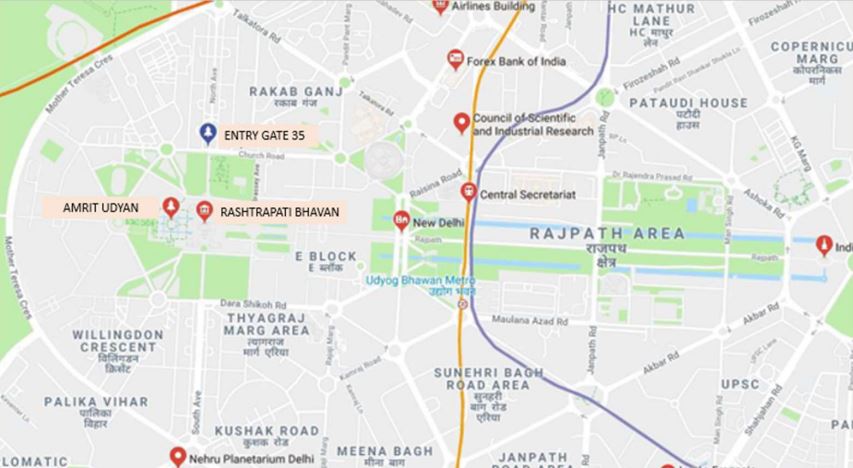 mughal garden amrit udyan
mughal garden 2023 opening date
mughal garden 2023 ticket price
mughal garden 2023 tickets
mughal garden 2023 registration
mughal garden 2023 booking
mughal garden 2023 mein kab khulega
mughal garden delhi opening date 2023
amrit udyan utsav 2023 registration
amrit udyan entry fees
amrit udyan online booking
amrit udyan ticket booking, online registration free entry