If you are Fan of Korean Industry, then you might be a Fan of Young Talented artists in Vocals, Dance, Visuals and Personality. They are talented Singers, Dancers, Actors and performers. All the Artists who are nominated for Best Kpop maknae 2023 Voting are very talented artists with decent qualities. Here is List of K-Pop Maknae Nominated List 2023 and Best Kpop maknae 2023 Voting Link.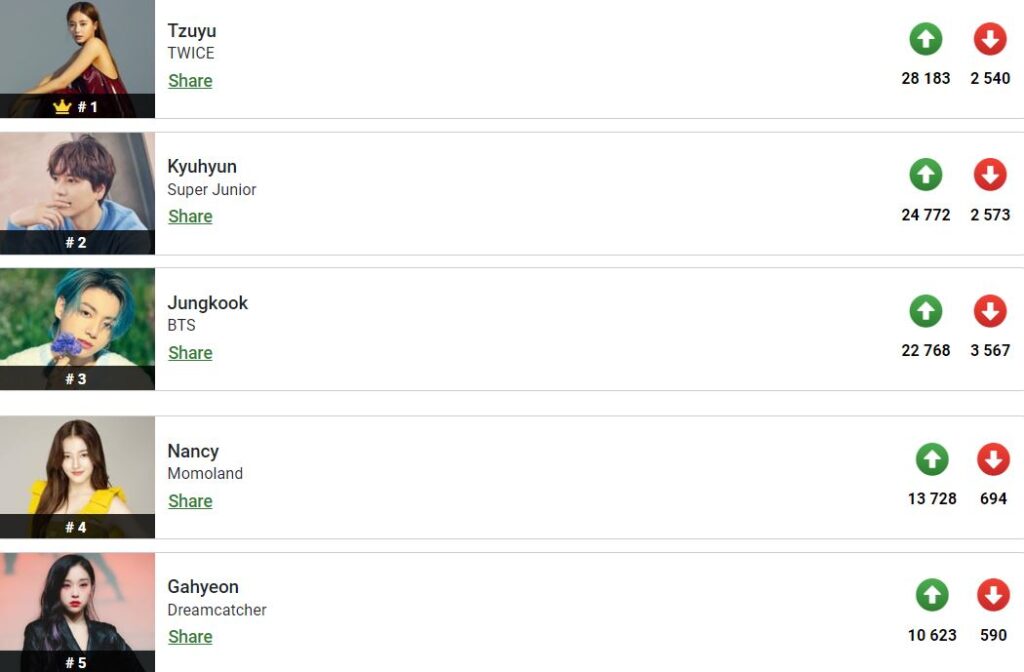 The Best KPOP Maknae 2023 Voting Online started on official King Choice website and you can do Voting right on the website link mentioned below. See the List of Nominated Personalities and choose your favorite to Vote and Support. Choose your Favorite Maknae early, Share that Poll with your friends and family and you can also directly share specific artists on social media to gain voting for your favorite.
Best KPOP Maknae 2023 Voting | Nomination
Have a Look at Top 15 K-Pop Maknae 2023 who are nominated for Voting. You can Vote and Support your favorite Artists among the lists Top 50 Nominations.
Tzuyu | TWICE
Kyuhyun | Super Junior
Jungkook | BTS
Nancy | Momoland
Gahyeon | Dreamcatcher
Taemin | SHINee
Hayoung | Apink
Shuhua | (G)I-DLE
Sanha | ASTRO
Seohyun | Girls' Generation
Yuna | ITZY
Junghwan | TREASURE
Wonyoung | IVE
I.N | Stray Kids
I.M | Monsta X
Sehun | EXO
Dino | SEVENTEEN
Sungjae | BTOB
Yeri | Red Velvet
Hwasa | MAMAMOO
Chanwoo | iKON
Umji | VIVIZ
Wooseok | PENTAGON
Niki | ENHYPEN
Chan | A.C.E
Jisung | NCT
Kyujin | NMIXX
Subin | VICTON
Jongho | ATEEZ
Yeojin | LOONA
Lucy | (G)I-DLE
Ningning | aespa
Yiren | EVERGLOW
Yoon | StayC
Daehwi | AB6IX
Hyeri | Girl's Day
Xion | ONEUS
Yugyeom, GOT7
Ren, NU'EST
Zoa | Weeekly
J | STAYC
Yeseo, Kep1er
Seongmin, CRAVITY
Kangmin, VERIVERY
Chani, SF9
Arin, Oh My Girl
Chanmi, AOA
Bomin, Golden Child
Huening Kai, TXT
Lisa, BlackPink
You can vote for the best K-pop maknae 2023 on the King Choice website. Here are the steps on how to vote:
Go to the King Choice website.
Click on the Best K-pop Maknae 2023 Voting Poll.
Select your favorite maknae from the list.
Click on the "Vote" button.
You will need to create an account or log in to vote.
You can vote once per day.
The voting will close on July 31, 2023. The winner will be announced on August 1, 2023.
Note – You can Vote Once Everyday, So make sure to login and Vote for your favorite Maknae daily.
Based on the Current Voting Trends, Top 5 Maknae are listed below with their Votes count.
Tzuyu (TWICE) – 26,160 votes
Kyuhyun (Super Junior) – 23,177 votes
Jungkook (BTS) – 18,233 votes
Nancy (Momoland) – 11,819 votes
Gahyeon (Dreamcatcher) – 9,814 votes
Now, You can Vote and Support your favorite Maknae and make him/her Winner of the Show. Submit your Votes for favorite via Best KPop Maknae 2023 Voting Link mentioned above. Hope you liked this guide for Best Maknae 2023 Vote. Keep watching Hustle website to get more updates.