Mahindra & Mahindra group chairman, Anand Mahindra is 67 years as of 2022. He is married to Anuradha Mahindra who was a journalist and launched the magazine, Verve. She is currently the editor of magazines Verve and Man's World. Anand Mahindra has two daughters, Aalika and Divya. His daughter Divya is married to Jorge Zapata, a New York-based architect of Latin American descent. Divya's Wedding with her partner Jorge was not like usual Indian fanfare. Anand Mahindra's Son-In-Law Jorge Zapata have done graduation from the Yale School of Architecture who heads a New York based Architecture firm DIAD. Here's Anand Mahindra Wife, Daughters, Son In Law, Age, Marriage and everything you wants to know.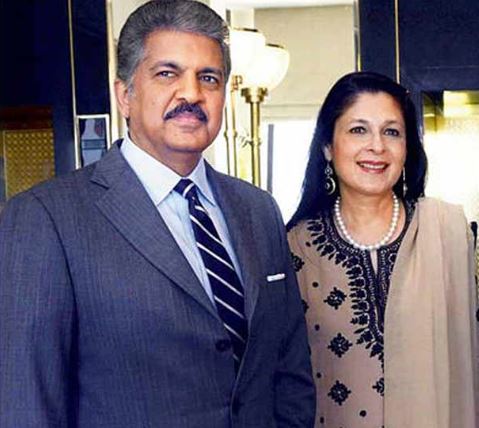 Some of the Instagram Picture we have seen Mahindra Clan and Jorge Zapata with friends at few private social dos in the US. Anand Mahindra has given full Freedom to his daughter and value their privacy and decision making.  Anand Mahindra's daughter Divya and Son in Law Jorge Zapata came into the light when Twitter User commented on Anand Mahindra's Post 'Why not Indian Son-in-Law' and Anand Mahindra replied to it.
Anand Mahindra Family | Wife, Daughters | Family
Mahindra & Mahindra group chairman, Anand Mahindra is 67 years old as of 2022. Anand Mahindra has two Sisters Anuja Sharma and Radhika Nath. He has done his schooling from  Lawrence School, Lovedale and went on to study film making and architecture from Harvard University. He graduated magna cum laude in 1977. He completed his MBA from Harvard Business school in 1981.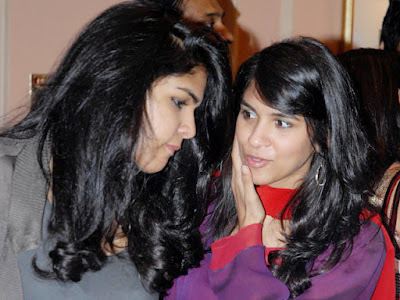 Anand Mahindra's both the daughter Aalika and Divya living in New York and not interested pursuing a professional career in the group business. Aalika is a movie buff who pursues documentary film making and photography. Divya is married to Jorge Zapata, A Latin American  New York based DIAD Architecture.
Anand Mahindra's Daughter Divya and Son-In-Law
Anand Mahindra's daughter Divya is Married toe Latin American based Architect JORGE A. ZAPATA, who is the Co-Founder and Managing Director of Diad Architecture, New York. The firm is full service based works on projects like cultural, residential and commercial buildings to product and furniture design. As a managing director the film Zapata handles client relations, office operations, and directs projects from conception through habitation. He closely oversees all aspects of design, balancing the pragmatic considerations of construction and the pursuit of ideas. His designs include the Kent Avenue Arts Center, opening in January 2017, as well as the Seaside House.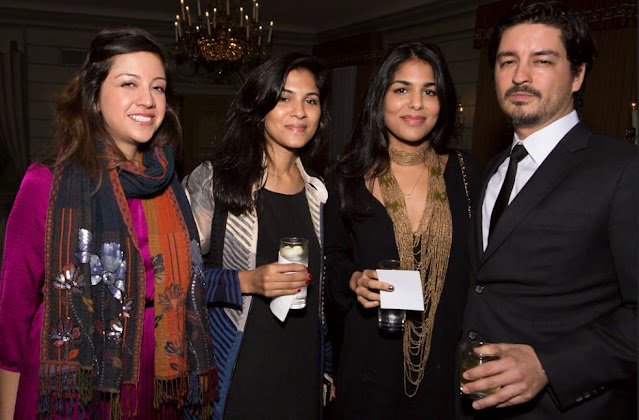 Jorge A Zapata has been a guest juror at NY Institute of Technology, NJ Institute of Technology and taught at the PRATT Center for Continuing and Professional Studies. He was raised in Tijuana, Mexico and San Diego, CA, lived in France and traveled throughout eastern and western Europe prior to entering his formal architectural studies. Jorge received his Master of Architecture degree from Yale University and his Bachelor of Architecture degree from NewSchool of Architecture and Design in San Diego, CA. He was awarded the Charlos O. Matcham Scholarship upon graduation from Yale and in 2015 was named 'Alumnus of the Year' by NewSchool of Architecture and Design. Jorge is a registered architect in the State of New York.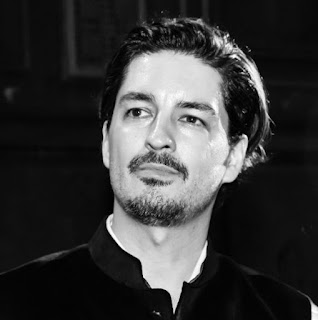 Zapata graduated from NewSchool in 1995 with a degree in architecture "I have very fond memories of when I studied at NewSchool of Architecture & Design and I am very grateful for the education I received," said Zapata. "My time there as a student consolidated my passion for architecture, a passion which I am continually trying to nurture. I believe the foundation I received at NewSchool, through the teachers and friends I met there, as well as the learning environment that we as students were surrounded with, kept me true to my passion."
Why Mahindra Group is Not a Family Business ?
During an interview Anand Mahidra has revealed his daughters are free to follow their hearts. They can do whatever they wants and they have their own freedom of choices.
"I'm asked this probably once a day. And I think it's a good question because it means that women are being accepted as inheritors of corporate legacies. In my case, my daughters have made their own choice. Recently, at our annual shareholder meeting, somebody asked why they weren't there and I said that they are part of the family business. They are working with my wife. We don't view Mahindra as a family business. My grandfather and granduncle started it in a wave of patriotism in 1945 and saw themselves as custodians of public money and trust. So, we've never viewed ourselves strictly as a family company. I thought for many years that I'd be a filmmaker and it didn't bother my father at all. There are absolutely no dynastic inclinations in my family. When I said I want to be a filmmaker, my father said fine. And when I said I'm coming into business, he said fine. We have a tradition of allowing our children to follow their hearts. And that's what my daughters are doing and I'm very pleased."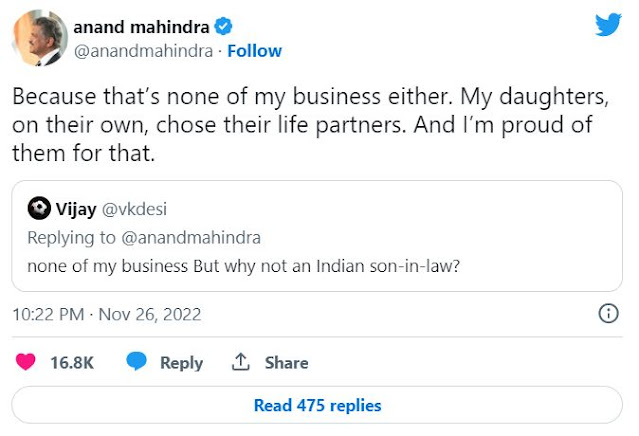 Here's the Tweet Why Aanad Mahidra's Daughter Divya and Husband Jorge Zapata Started getting Attentions. A Twitter User Asked to Mahindra ji, why not an Indian Son-In-Law, This is how he replied.
anand mahindra daughter
anand mahindra daughter wedding
anand mahindra daughter name
anand mahindra daughter marriage
anand mahindra son-in-law