Shark Tank India features Amazing Business Ideas from across the country. 'Barosi' is one of the appreciated business idea on Shark Tank India Season 2. Barosi is a Desi Indian Food Product Brand who delivers Farm Fresh Products to your doorstep. Founder Durlabh Rawat came to Pitch and get Funding from the Sharks on Shark Tank India Season 2.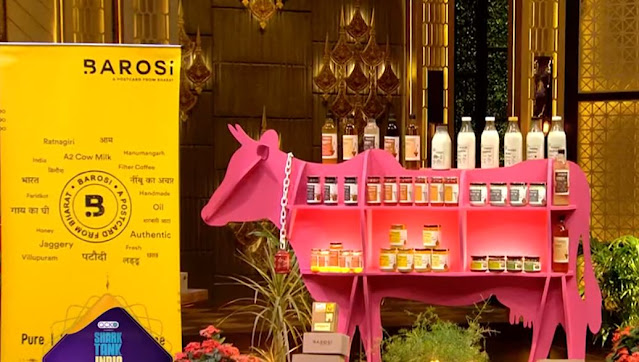 Founder Durlabh is from Small Village of UP. He Studied Diploma in Mechanical Engineering from PUSA Institute of Technology in Delhi. Later he worked in the Auto Sector for 12 Years before Starting Barsoi, an Authentic Food Brand providing Pure, Local Food Products to its customers.
Barosi is an Authentic D2C Food Brand sells Desi Cow Milk, Desi Buffalo Milk, Dei Ghee, Oils, Pickles, Honey, Cheese, Wheat Flour, Jaggery and much more at very affordable prices. Barsoi Products getting Positive Response from the Customers as they are liking the products.
Their Last 4 Years Sales report surprised Sharks on Shark Tank India Season 2.
FY 2019 – 1 Cr 28 Lakh
FY 2020 – 2 Cr 23 Lakh
FY 2021 – 4 Cr 6 Lakh
FY 2022 – 4 Cr 70 Lakh
So, Barosi is offering Good Quality Organic Food to their customers and people buying their products repeatedly as they are coming fresh from their farm. Don't Forget to Watch Barosi Food Product Pitch on Shark Tank India Episode of 9 February 2023 on Sony TV. You can Watch Barosi Pitch Video anytime on Sonyliv.