Funngro is an Android, iOS App for Teens of 14 years to 20 years of Age who can Discover their Passion, Area of Interest and Earn while learning. Yes, Funngro is Financial Independence App for Teens who can earn their First Income from Real Companies. Funngro Founders Appeared on Shark Tank India Season 2 and asks for an Investment from the sharks.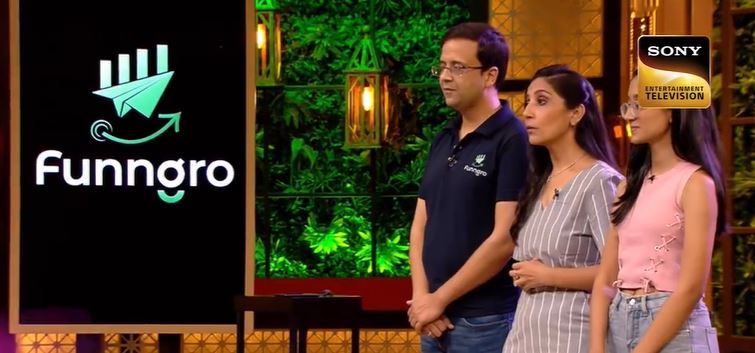 Sharks had mixed opinion about the Earning App for Teens as Aman Gupta din't like the Idea of Earning Concept for Teens on the Other Side Namita Thapar was totally opposite to him and told, She find current's Youth is ready for It. Funngro has more than 1 Lakh downloads already on Android App.
Teenlancer – Paid Projects from Real Companies for Teens
300+ Companies are waiting for you on Platform
Benefits of Earning, Learning, Prepaid Card, Fun
Smart Teenager meets Smart Companies
Funngro App Project Categories
Those Who wants to Work on Projects of their Passion with Funngro, Here we have the list mentioned on which you can Work.
Social media marketing – Manage social media pages of companies
Influencer marketing – Create Reels, Memes, posts and videos for social media handles of companies
Campus ambassador – Drive sales for companies by acquiring customers
Data Entry – Create databases for companies with your data research skills
Research and Survey – Run Surveys for companies and complete research assignments
Content writing – Blogs, articles, website content and a lot more. Write for companies
Voice Over – Work with companies in recording content with your voice over skills
Video creation – Create and edit videos for companies and use your video creation skills
Testing – Test company products and give feedback, app, website, physical product
Website Design – Design and build a website for companies
Graphic design – Logos, Brochures, pamphlets, website, posts etc
Mobile App development – Develop market ready apps for companies
Funngro App Download Android, iOS | APK
If you wants to Start discovering your Passion and Earning Online with Funngro, You can Download the Funngro App from Android, iOS Stores online. Also, Funngro Apk is available to Download you can directly install app in your mobile or PC.
Why work in your Teens?
Warren Buffet, Bill Gates, Steve Jobs, all started working in their Teens, do you need a better reason?
First income – Work with real companies and Earn money
Passion – Make your passion as your profession
Learning – Experiential Learning by working on real projects
Certification – build your profile by getting experience certificates
So, If you are willing to Learn and Earn as Teenager Funngro App download for your Android and iOS Platform. Real Companies, Real Project, Real Earning and Real Money is waiting for you. Funngro Founder Asks for an Investment and expertise from the sharks on Shark Tank India Season 2.