Hoovu Fresh Flowers founders appeared on a Shark Tank India Season 2 to get Funding for their company. Founders Sisters Yeshoda Karuturi and Rhea Karuturi asks for 80 Lakh Rupees for 1% Equity of their company. Hoovu Fresh is the well established flower business. Here's Hoovu Fresh Ask, Revenue, Founders, Story, Business Model and everything you wants to know about the Business.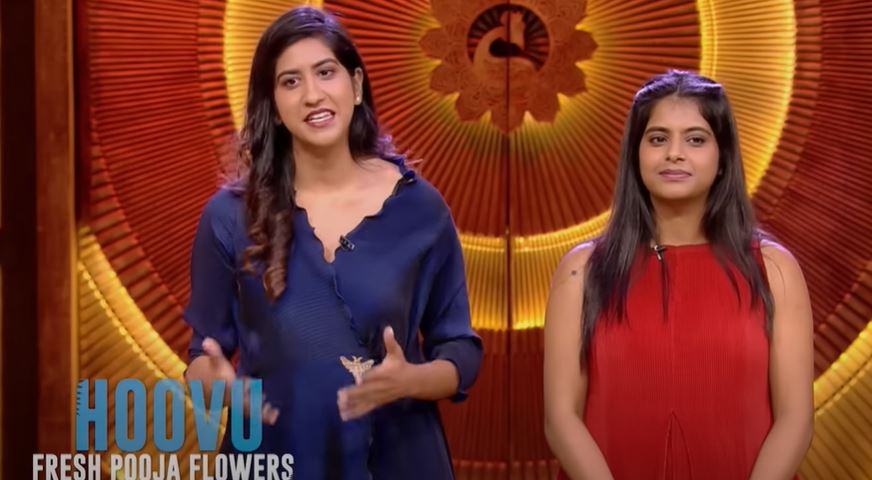 Hoovu Fresh Pooja Flowers have increased the self life of these flowers from 2 days to 15 days. Namita and Vinita are willing to offer 40 Lakh Rupees in equity of 4% of the business. Peyush Bansal offers 1 Cr rupees for 2% equity.
Sales – 1 Cr Rupees
Ask -80 Lakh Rupees for 1% Equity
From the Founders of Hoovu Fresh
Flowers are passed through multiple levels of handling, and by the time they reach the end customer, it's been 36-48 hours since their harvest, with no cold chain or proper care. 
We saw an enormous opportunity here – with our experience in agriculture, we're able to partner with farms to reduce the turnaround time to 12-24 hours. Innovation in the packaging helps us extend the flower shelf life by 2x to 5x, something unheard of in the current industry.
Yeshoda Karuturi
Yeshoda Karuturi has a Masters in Accounting and a Bachelor of Science in Business Administration from Washington University in St Louis. After graduating, she worked for Karuturi Global, once the world's largest producer of roses, as the Executive director with a focus on the Company's overseas operations. In her role, she built a machinery rental business in Ethiopia with a focus on being able to create effective controls for the business that was scalable and practical, given the technology constraints within the Ethiopian agriculture industry. 
Rhea Karuturi
Rhea has a Bachelors of Science from Stanford University in Science, Technology and Society, with a concentration in Communication and Media. She worked as a teaching assistant in the Computer Science department, teaching the CS106a course in Java, Python and Javascript. She has worked at Times of India, Deccan Herald, the Stanford Daily and the Bay City Beacon among other publications. 
Shark Tank India Season 2 airs every Monday to Friday 10 PM, starting from 2nd January 2022.