15th August each year is celebrated by remembering Freedom Fighters and Warriors who fought for the country and freed the Nation from British Slavery. Independence Day is marked as Public Holiday in India and everywhere in a Country we Sees Flag Hosting Ceremony in School, Colleges, Govt and Private Offices. Also Parade and Some Cultural Activities makes this day even more beautiful.
Now, if you wants to Book your Ticket for Delhi Lal Kila Event and wants to see it Live, Here is How to Book Tickets Online for 15th August Parade on Official website aamantran.mod.gov.in. Also, Prices for Each Ticket based on Seat Category mentioned. Follow detailed guideline to book your Red Fort Event Ticket on this Independence Day 2023.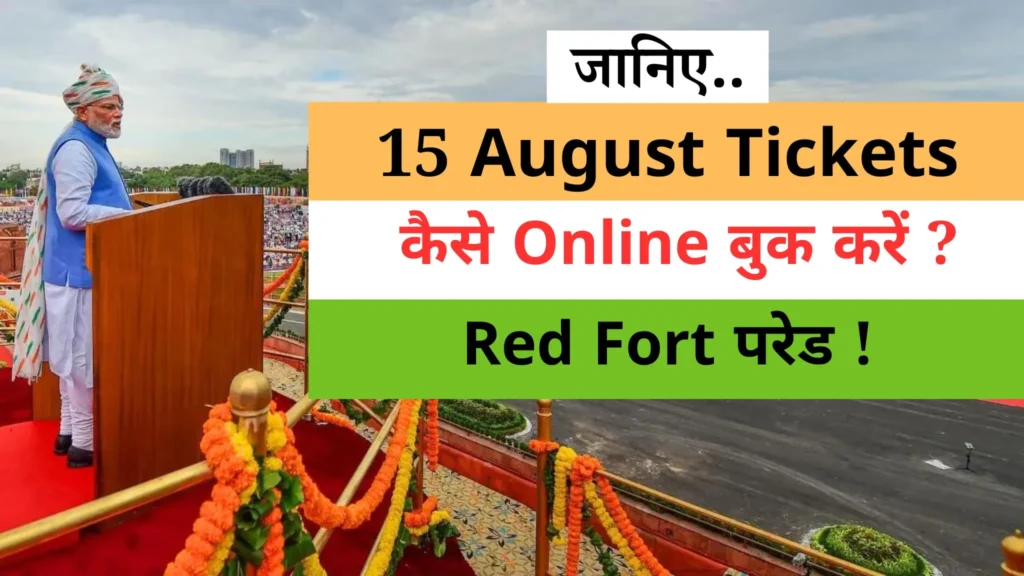 Here is Information about How to Reach on Time to Attend this Event at Lal Kila, Delhi. There are Two ways to Book your Tickets for Independence Day 2023 Ceremony, you can Book Tickets Online or Offline. Here is How to to Registration Online for Ticket Booking Online on Aamantran Portal. The Independence Day Parade 2023 Online Ticket Booking started on 10th August 2023 on Official website https://aamantran.mod.gov.in/. Every Year Independence Day is celebrated with a Special Theme and This Year 15th August 2023 Theme is "Nation First, Always First"
Event Place – New Delhi, India
Place of Flag Hoisting – Lal Kila (Red Fort), New Delhi
Ticket Booking Timings – 10 AM to 12 PM and 2 PM to 4 PM
Ticket Prices:
General: Rs. 20/- per person
Reserved: Rs. 100/- per person
VIP: Rs. 500/- per person
Here are Some Important Things you Should Keep in Mind while Booking Tickets for Independence Day 2023 Ceremony
Tickets Registration Usually Starts in Advance, So Book as early as Possible
There are Limited Number of Seats Available and Cost of Tickets varies depending on Seating Category
You have to Upload Your Copy of ID Proof to Book Tickets Online
You have to make Payments Online via Internet Banking, Debit Card or Credit Card.
After Successful Ticket Booking, you willl get a Ticket or Entry Pass for Flag Hosting Ceremoney or Parade Event.
Aamantran Portal has Features Like:
QR Code based Authentication for Enhanced Security
Digital Delivery of Passes or Tickets through Emails and SMS
Tickets are Non Cancellable and Non Transferrable
RSVP Option for Pases to seek Acceptance from Invitees
Post Event Data Analysis for better Management of the Future Events.
15 August Parade Tickets Online Booking | How To
Here are the steps on how to book tickets for Independence Day on the Aamantran portal:
Go to the Aamantran portal website: https://aamantran.mod.gov.in/
Enter Mobile Number and Captcha.
Click on the "Login" button.
Once you are logged in, click on the "Events" tab.
Select "Independence Day" from the list of events.
Select the date and time of the event you want to attend.
Select the number of tickets you want to book.
Enter your personal details and contact information.
Upload a copy of your ID proof.
Make the payment for the tickets.
You will receive an email confirmation with your e-tickets.
Apart from Online Ticket Booking, you can get Tickets or Passes offline on Following Locations. The Ministry of Defense (MoD) allowed Offline Ticket Booking for 15th August 2023 Independence Day Parade on following Ticket counters.
Sena Bhawan (Gate No 2)
Shastri Bhawan (Near Gate No 3)
Jamnagar House (Opposite India Gate)
Pragati Maidan (Gate No 1)
Parliament House (Reception Office) – Special Counter for Hon'ble MPs.
The ticket sale counters will be open from 14th August from 10:00 AM to 12:30 PM and 2:00 PM to 4:30 PM.
Note – Online Ticket Booking is Not Working on Website aamantran Portal, Will be Activated Soon. Stay Tuned.
So, Book Your Tickets Online for 15th August, Independence Day 2023 Red Fort Event and Enjoy Flag Hosting, Parade and Other Cultural Events on Same day with PM Narendra Modi. Each Year we see Mass number of People register for this event and we know You are one of them this year who is excited for Lal Kila Event. So, Go Grab Your Tickets before Someone else, Limited Seats are available. Jay Hind!