Bullspree is a gaming application where you can learn a Stock Market World by Playing games. Bulspree App Founders Harsh Dhanawat, Dharmil Bavishi, Divyansh Mathur from Ahmedabad, Gujarat came to Shark Tank India to get Funding from the Sharks. Bulspree company vision is to m ake Stock Market Understanding better. Bullspree Strive to disseminate the financial market knowledge in a fun and engaging manner via innovative and experiential mediums.
What is Bullspree App?
If you Loves Plaing Game and wants to gain your Stock Market Knowledge Bullspree is the perfect application for you. Bullspree is a Stock Market gaming and learning Mobile App available both in Android, iOS Platforms. It offers wide range of Fun-filled games in Finance category that helps user to gain their finance knowledge.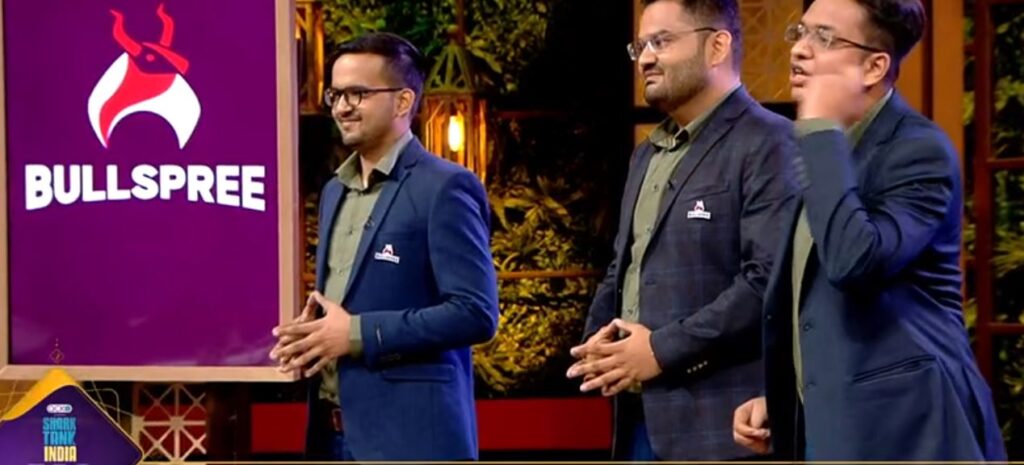 Also on Bullspree you can Play, Trade and Earn Rewards by learning about Investments in a Fun Filled Way with real Market Movements. Also, Users can build their own Portfolios and compete against other Bullspree Users.
Here is How to Play on Bullspree App:
Download Bullspree App on your mobile and register with your phone number.
Select the level of your gaming according to your knowledge.
Make your winning team by selecting the stocks on which you are confident.
Now you are ready to sail the boat, just click on continue to join the contest.
Finally, sit back and relax. Let the leaderboard shows your final score!
Bullspree App Download Android, iOS, APK
You can Downlod Bullspree App from their Official Website, Bullspree APK is available to Download. Also, Bulspree App is available on Android, iOS Platforms. They have already crossed 1 Lakh Downloads on Android Playstore.
Bullspree Co-Foundres Asks for a Funding in Shark Tank India Season 2. Their Ask was 75 Lakh at 1.5% Equity in a Company. So, If you Loved Bulspree App as appeared on Shark Tank India Season 2, Bullspree App Download for Android, iOS Platform and also APK is available.