Shah Rukh Khan starrer Pathaan movie has received So Much love and Positive Response after First Day shows. The Film has created a Big Buzz with an Action Thriller Intense Story, Dialogues and Music. Now, Pathaan movie Post Credit Scene is creating lots of questions in Viewers Mind. In a Pathan Post Credit Scene Shah Rukh Khan and Salman Khan spotted doing conversation about What's Next, Who will do this film Next and more.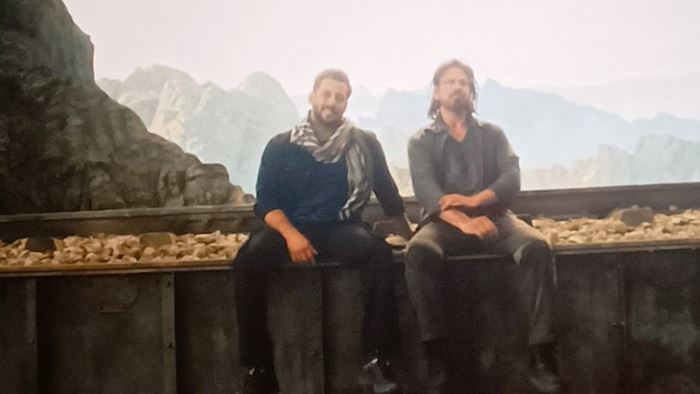 Pathan movie has 2 Post Credit Scenes just like marvel productions. The First Post Credit Scene begins right where the film ends. Pathaan (Shah Rukh Khan) has planned to part ways with RAW and go his own way after the departure of his senior and mentor (played by Dimple Kapadia). Ashutosh Rana's character stops him and asks him to stay back, handing him the reins to the program that Dimple ran. He tells him that the job to protect India is not for Pathaan or Tiger or Kabir alone, but it needs all of them together.
The reference to Shah Rukh's Pathaan possibly teaming up with Hrithik Roshan's Kabir and Salman Khan's Tiger raises the stakes for the YRF Spy Universe and certainly has the fans happy. While nothing has been announced in the franchise beyond Tiger 3 as of now, there are murmurs that the three stars will team up for an Avengers-like mega film down the line. While fans may have to wait for Kabir and Pathaan to team up.
At the End Scene Shah Rukh Khan and Salman Khan appeared Sitting on tracks and discussing if they quits this, Who'll be doing next? Watch Pathaan Post Credit Scene Video. Let us know What you Think after Watching Pathaan Movie and its Post Credit Scene.