Shark Tank India Season 2 on Sony TV gets Bunch of new Business Ideas from the entrepreneurs across the country. Some Ideas are really innovative that already helped lot of people and now founders of that companies are on Shark Tank India season 2 to get funding or investment from the sharks in exchange of equity of their company. Let's Know this Portl Mirror Review, Price and more about its features.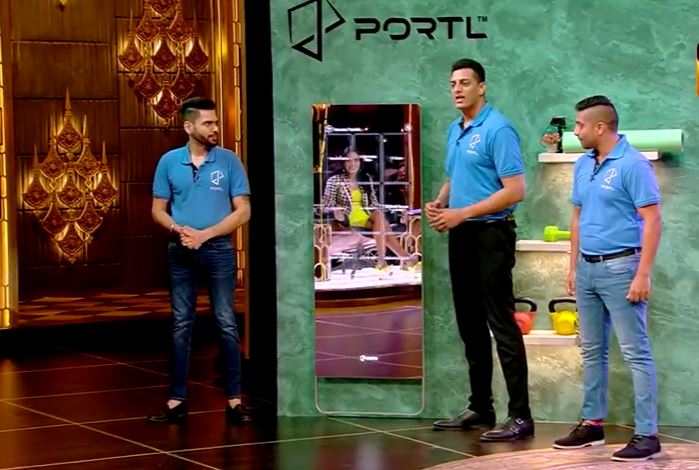 Portl Studio presents India's First Personal Training Mirror that says harsh truth about your Body and Fitness. Yes, This Magical Mirror tells about your Blood Pressure, Glucose, ECG, respiratory rate and more. It also guide you on how to do a Specific workout to fix it. Like how to do a dumbbell curve and the exact pec the arm should go up to.
Portl Mirror Founders Indraneel Gupta and Vishal Chandapeta represented their Product on Shark Tank India Season 2 and they impressed our sharks and managed to get funding from them.
What are the Specifications and Features of Portl Workout Mirror
Portl Mirror is of 40 KG comes with 43 Inch Screen that can be wall mounted or you can fix it on the floor. It is equipped with embedded bio-sensors, an HD Camera, Bluetooth and WiFi and runs Special Software. Have a look at Bunch of Smart Features available with Portl Workout Mirror.
Real-Time AI-Form Correction for Exercises
Live & Interactive 1-vs-1 and Squad Workouts
On-Demand and Live Classes across multiple workout formats
Personalized Programmes for all users and age-groups
Personalized Nutrition Coaching
Mental Wellness Programmes
Health Monitoring
Pain Management & Tele-Medicine
"We take our workouts seriously. For example, if the user is not sitting back enough during a squat, the machine will not count it as a rep. The user has to meet 85 percent of the set parameters for the rep to be counted as part of the workout," explains Gupta.
Portl Workout Mirror Price
The Portl Workout Mirror is available in 2 Options 1) Fixed Price for 1 Time Purchase and 2) Subscription based
Portl Workout Mirror Price – Rs 90,000
Portl Subscription Price – Rs 500 per month for the workout subscriptions
"Everything on the mirror from content to the technology to hardware is built in-house. We have raised USD 1 million external funding in June 2021 from a very popular venture fund to develop content and build a strong team to deliver on our promises," he said.
Gupta said that the company has 400-500 units manufacturing capacity per month and it has identified third-party vendors who can manufacture 5,000 units per month.