Recode Makeup Brand Founders appeared on Shark Tank India Season 2 and they Pitches to get an Investments from the Sharks. Here's everything you need to know about Recode Makeup Brand from Review, Founders, Investment, Valuation, Turnover of the business and more.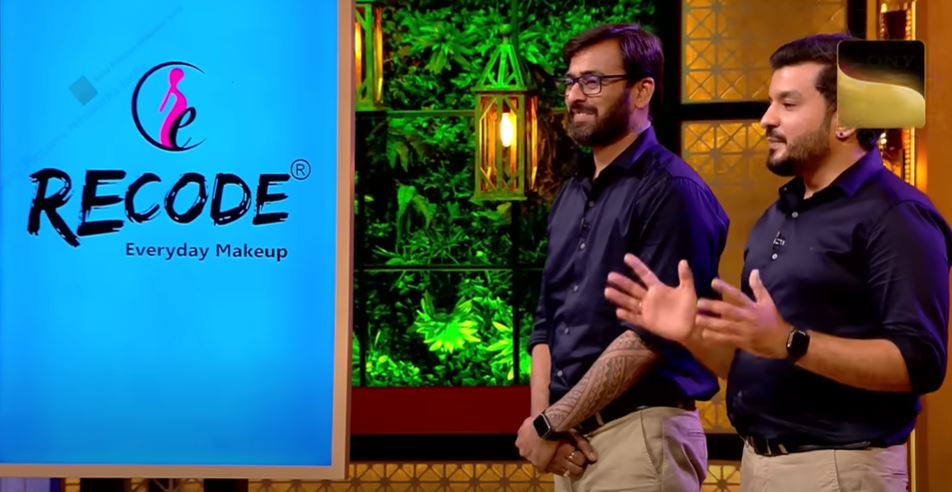 Recode Studios is the Premium quality cosmetic brand with a focus on affordability. While Recode does not directly manufacture products, it imports from Thailand, Germany, and China, and performs quality checks in-house. "We do private labelling and buy material from Mumbai, Sonipat, and Parwanoo. The manufacturers source their ingredients from France, Taiwan, Japan, and Italy," 
They started the Business with Market Research with 5-6 SKUs, Including Eyeliner, Nail Paint, Kajal, Liquid Lipstick, Bullet Lipsticks. During Pandemic they started selling their makeup products at Re 1. and which helped them to get major customer feedback. Now, its platform offers beauty product lines from more than 55 brands, including Wow Skinscience, Colorbar, Shopparel, Power Gummies, Riyo Herbs, and Ofra. 
Recode Makeup Brand have Collections from Wow Skinscience, Colorbar, Indulgeo Essentials,Power Gummies, Perenne Cosmetics, SKOG Sweden, Zobha,Riyo Herbs,Ofra and 40 more brands have already been onboarded at beauty space.
With 100% authentic products, they offer a well curated comprehensive selection of makeup,skincare,hair care, bath and body,grooming appliances, personal care, health and wellness categories from the most trusted brands.
Recode Makeup Founders: 
Recode Makeup is the domestic cosmetics brand that serves in the entire country, founded by Neetu Bansal , Shalini Trehan, PreetiTrehan, Shelly Bansal and Rahul Sachdeva
Recode Makeup Funding
They Started this Cosmetic business from their Savings of 1 Cr Rupees. The Brand is Bootstrapped as of now and they are now on Shark Tank India Season 2 to raise the funding. They are confident enough to boost the business as it has a 50% customer retention rate and generates 40% of its income online and the rest from offline stores. See the Revenue Chart from Recode Studios
Rs 25 Lakh – 2018-2019
Rs 2 Cr – 2019 -2020
Rs 5 Cr – 2020-2021
Rs 15 Cr – 2021-2022
Aiming Rs 30 Cr – 2022-2023
Recode Makeup Prices – The Makeup Brand Offers wide range of products starting from 100 Rupees and goes in thousands rupees. You can Visit their Store online and find the Product Links.
Recode MakeUp Review: The Customer who have used the Products are giving their review, Honest Experience Using Product on their body. Recode Makeup is getting good enough response from the buyers online and offline store. The more Review from the Customers to be updated here.
Watch Recode Makeup Shark Tank Season 2 Pitch Video Inside.
Recode is here to compete with other cosmetic players in the industry named Nykaa, MyGlamm, Purplle and a Sugar Cosmetics. They are planning to expand and to launch 50-60 SKUs in the near future.